As some of you may know, I briefly took a job working for a startup that relocated to the Denver Tech Center in October of 2019, specifically the Greenwood Village section of it. I prepped myself for the move, realizing that it would make my normally 15-20 minute commute nearly an hour and 15 minutes from my apartment to the office. While there was a light rail station that provided nearly direct access to the area where my office was, the issues that RTD was facing in regards to inability to recruit and retain drivers began to show, as trains that I wanted to take either ran too late or ran too early.
First Impressions
When I began my first Lyft ride into the Tech Center to finish up the move of the startup's office, I was struck with how it felt like every office park in Southern California, where I grew up. While Denver has giant skyscrapers in its Lower Downtown Area, the Tech Center feels is that, but with concrete car storage as far as the eye can see. From parking garages, to parking lots, to park-n-rides all throughout the RTD area, cars seem to be king in this area. Though RTD has a presence, including light rail 3-4 stations along the main stretch of the center and a couple of bus routes, that's where transit ends. Going into the move, I was pessimistic, but ready to bear and grin due to the consistency of work.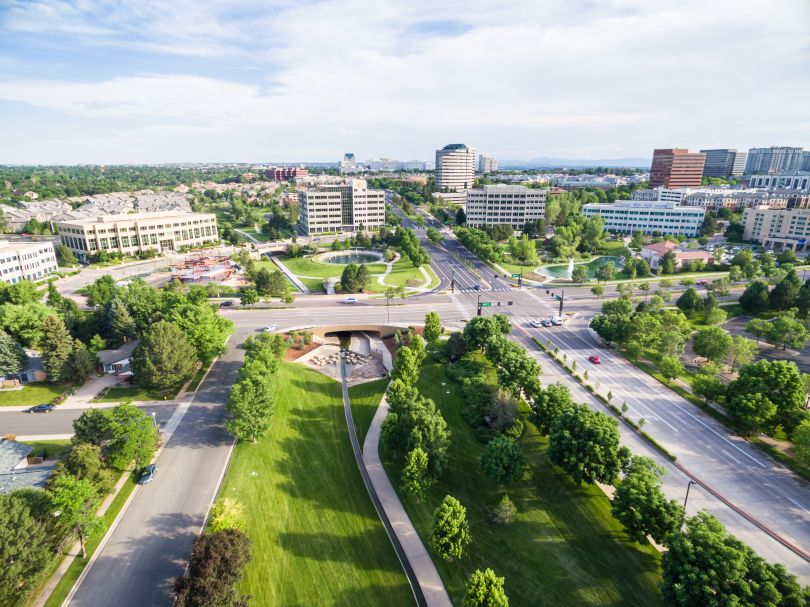 The Month in The DTC
Perhaps it didn't help that RTD was constantly burdened by the driver shortage in regards to having consistent lines. Perhaps it didn't help that it felt like snow removal in the DTC was geared towards making sure parking lots and streets were clear vs. sidewalks. Perhaps it didn't help that, upon moving down there, my employer asked for the make and model of my car, assuming that I would be driving down to the Tech Center from Denver. The culmination of everything, however, was the fact that it felt inescapable. Company WiFi constantly had issues that none of us could resolve, yet the only refrain for most of us, who lived closer to downtown Denver, was to go to a nearby chain tavern when things went wrong. Bad periods of inclement weather in Late October meant that we had to work from home, with me hoping that a coworker would give me a ride.
There was zero way to effectively bike to the Tech Center from my apartment without waking up at 5:30 in the morning, and bike infrastructure was virtually non-existent without cobbling together a handful of trails and hoping that drivers would be generous. Even walking in the Tech Center felt like a struggle at times, with constant anxiety in regards to whether I would get hit when jaywalking to make my train on time. I could bear and grin for awhile because it was consistent 9-5 work, but something had to give. I tried to find the positives: at least I didn't have to worry about the close quarter of a WeWork? After grasping at straws, I started to see the cracks in a bad way.
The Tipping Point: A No Good, Really Bad Halloween
While my Halloween costume from 2019, an RTD bus driver with a replica 15L, was a high point in my Halloween costume choices, the night after work heading home from the office broke me.
I remember the night well. I was taking the E line from the Orchard Station, the closest to where the office was, to the Alameda Station in Denver. After slowing down in approach to several stops, the entire train stopped between the Pearl and Broadway Stations. After about 2-3 minutes, passengers started to show concern due to the fact the delay seemed less of a pause and more of a full stop. 5 minutes later, the operator came on the radio, relaying to the passengers that the train was experiencing technical difficulties. Fifteen minutes after that initial warning, I was done. I held it together through the month of October solely based on the fact that I rolled with the punches that RTD was dealing me with my commute having to gradually get longer to catch the right train. After almost 30 minutes of being stopped, I felt like RTD had dealt a kick to the crotch that I couldn't recover from. After the festivities of Halloween night ended, I cried, frustrated that I had fallen so far, and planned my escape from the Tech Center.
Aftermath and Reflection
I applied with my old company for a job closer to downtown and got it, albeit with slightly nontraditional hours, and started the healing process. It was late November of 2019, and I went into my job realizing that it would be a way for me to heal from a mental and an emotional perspective. While the healing was never linear, the process began then, with some lulls due to the global pandemic and shifts in my home life.
Looking back, I made the right decision. The Tech Center and the types of companies that it attracts are not for me. As someone that worked for a startup, I wanted the geographical positives of startup culture: being reasonably walkable/ridable/bike-able from my apartment, able to connect with people in my own age group near me, and close to places and spaces that felt human. Instead, I worked in the outskirts of suburbia, feeling like I was working for an anonymous company surrounded by anonymous companies. It felt more like working at Initech, where I was an anonymous face in a sea of anonymous faces, than a vibrant startup. The area surrounding also felt like a bedroom community, where, to quote a friend "Business Owners located offices there to take their clients to the nicer Illegal Pete's". When I couldn't find humanity in the concrete, I escaped, and feel all the better for it.
Cover Photo is an Aerial Shot of a Hyatt located in the Tech Center